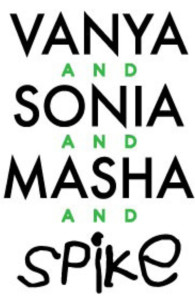 Up next for YCP TheaterWorks is
Vanya and Sonia and Masha and Spike
By Christopher Durang
YCP TheaterWorks has resurrected Chekhov! He is alive and well in Bucks County, Pennsylvania, where adult siblings Vanya and Sonia reside in their old family home, mourning their lost dreams and missed opportunities. When their often-wrong, fortune-telling maid warns of impending dangers, and their movie star sister, Masha, arrives unexpectedly with a young, sexy boy-toy, Spike, the family is launched into a rollicking weekend of one-upmanship and exposed nerves. With wit and absurdity, Christopher Durang's Vanya and Sonia and Masha and Spike will be performed for 3 weekends at The United Methodist Church in Shrub Oak from February 24 through March 12, 8:00 pm on Fridays and Saturdays and 2:00 pm on Sundays.
Directed by Richard Troiano, the comedy features Heather Campbell, Carol Eagen, Elise Godfrey, Kelly O'Connor, Tiberio Saraceno and Derek Tarson.
You won't want to miss out on this mix of classic Chekhov with modern-day troubles. It is a delightful comedy that will tickle your funny bone and stimulate your mind. Tickets available online at brown paper tickets or by calling 1-800-838-3006. Prices are $20 adults, $18 Students (through college) & Seniors (62+). For groups of 10 or more, tickets can be purchased together at $15 per person (advanced purchase on brown paper tickets is required for group rate). For information call (914) 245-2184.