THE 47th SEASON – 2006-2007
THE TRIP TO BOUNTIFUL
YCP TheaterWorks opens their 47th season with Horton Foote's powerful drama, The Trip to Bountiful directed by Marshall Moseley. Performances were November 2006 at the Van Cortlandtville School Theater.
The Trip to Bountiful, which played last season with glowing reviews at the Signature Theatre in NYC, was first presented on television in early 1953 and later that year on Broadway. The 1985 movie version adapted by Mr. Foote garnered an Oscar for Geradine Paige as Mrs. Watts and a best screenplay nomination for Mr. Foote.
Set in 1947 Houston Mrs. Watts, an aging widow living with her son and his wife in a three room flat, chafes under the rigid and selfish supervision of her daughter-in-law and imagines that she should return to her home in the town of Bountiful. She attempts to run away, and when she reaches a bus station on the last part of her journey, she falls into the hands of a kindly sheriff whom her son has put on her trail. He allows her to complete the final stage of her pilgrimage to her old home. This pilgrimage turns up unexpected discoveries, both sad and enriching.
Leading the cast as Mrs. Watts was Elaine Hartel. The part of her son, Ludie Watts, played by John Thompson. Barbara Marks played the part of the daughter-in-law, Jessie Mae Watts. Other cast members were Danae MacDonald as Thelma, Tom Gorman as the sheriff. Susan Bond, Violet Benny, and Frank Gatto portrayed the ticket agents, Kristen Weismantel, Taryn King and John Schettino completed the cast.
THE LITTLE FOXES
YCP TheaterWorks staged The Little Foxes by Lillian Hellman in February 2007 at the Van Cortlandtville School Theater. The Little Foxes was first seen on Broadway in 1939 at the National Theater. Set in a small town in Alabama in 1900, the play focuses on three siblings struggling to take over control of the family business. In the play, Miss Hellman investigates the characters' inner lives while attacking universal moral faults. Through the actions of her characters, Ms. Hellman presents to the audience an indictment of capitalistic motives focused on greed. Her powerful insights into the depth of familial dysfunction still ring true even to today's audiences.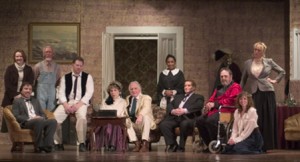 A theft committed by the members of the family forces the confrontation of issues, reveals the depth of lies and scheming that can run deep in families. The brothers, Ben and Oscar Hubbard, played by Martin Posner and Frank Panzer, respectively want to build a cotton mill, but are still $75,000 short. They enlist the help of their sister Regina, played by Syl Farrell, to get the remainder from her husband Horace played by Jeff Virgo. Horace has been away at a hospital and Regina bids him home through her daughter, Alexandra played by Heather Campbell. Mark Firestone played Leo, Oscar's weak and unimaginative son, Karen Quinn-Panzer, portrayed the flighty and intimidated Birdie Hubbard, Jim Petrillo, the business investor William Marshall, and the two servants of the Hubbard's, Addie and Cal were played by Leslie Smithey and Jan Dyckman. The director was Dawn Bernitt-Perito.
BLITHE SPIRIT
Blithe Spirit was performed in June 2007 at the Van Cortlandtville School. Blithe Spirit is a comedy with a supernatural twist and is one of Noel Coward's best known plays. As the story opens, we meet Ruth and Charles Condomine played by Christine D'Amato and real life husband, Robert J. D'Amato. Charles is a writer who is doing research for a book he's writing on the occult, and he has invited, in addition to friends, a well-known medium to hold a séance. His goal is to expose the woman as a fraud, and denounce her so called supernatural gift as nothing more than hocus pocus.
Madame Arcati, played by Dawn Bernitt-Perito arrives and does her thing. To Charles' astonishment, his first wife, Elvira, portrayed by Danae MacDonald pays him a visit from the "other side." Visible and audible only to Charles, she provokes him into quarreling with her. When he answers her back in anger, Ruth thinks he's talking to her. Ruth is upset and thinks her husband is a bit mad. A floating vase, handed to her out of thin air, finally convinces Ruth that Charles is not losing his mind and that his first wife is indeed in the room. The first wife has a ghostly plot in mind: if she can get Charles into an automobile accident and make a ghost of him, life in the spirit world will have more appeal to her. Mistakes occur, however, and it is Ruth who takes the fatal car ride and passes on only to return with the first wife to plague Charles. How Charles manages to extricate himself from those two very blithe spirits makes a hilarious conclusion to this very unusual farce. Coward has such a good time making mischief with marriage and medium. Also appearing in the play were Tim Simonds and Abby Jennings who played the Condomines' guests, Dr. and Mrs Bradman. Rounding out the cast was Carolin Schuetze who played the part of Edith. Karina Ramsey made her YCP TheaterWorks directorial debut with Noel Coward's Blithe Spirit.