THE 54th SEASON – 2013-2014
CALIFORNIA SUITE
Veteran director, Joel Karpoff staged YCP TheaterWorks' first offering of its 54th season, Neil Simon's diverting comedy, California Suite. It was presented by YCP TheaterWorks in October and November 2013 at the Van Cortlandtville School Theatre.
In Visitor from New York, Hannah Warren (Susan Bond) is a Manhattan Workaholic who flies to Los Angeles to retrieve her teenage daughter Jenny after she leaves home to live with her successful screenwriter father William (Jonathan Nelson). The bickering divorced couple is forced to decide what living arrangements are best for the girl.
Conservative middle-aged businessman Marvin Michaels (Gary Simon) is the Visitor from Philadelphia, who awakens to discover a prostitute named Bunny (Liliana Ardaix) unconscious in his bed after consuming a bottle of vodka. With his wife Millie (Jacqueline Smith) on her way up to the suite, he must find a way to conceal all traces of his uncharacteristic indiscretion.
The Visitors from London are British actress Diana Nichols (Elise Godfrey), a first-time nominee for the Academy Award for Best Actress, and her husband Sidney (Ed Fonzo), a once-closeted antique dealer who increasingly has become indiscreet about his sexual orientation. The Oscar is an honor that could jumpstart her faltering career, although Diana knows she doesn't have a chance of winning. She is in deep denial about the true nature of her marriage of convenience, and as she prepares for her moment in the spotlight, her mood fluctuates from hope to panic to despair.
The Visitors from Chicago are two affluent couples who are best friends. Stu Franklyn (Jonathan Nelson) and his wife Gert (Karen Symington Muendell) and Mort Hollender (Bruce Apar) and his wife Beth (Enid Breis) are taking a much-needed vacation together. Things begin to unravel quickly when Beth is hurt during a mixed doubles tennis match and Mort accuses Stu of having caused her injury by lobbing the ball.
WITNESS FOR THE PROSECUTION
An intricately plotted courtroom procedural so full of twists and turns it could only have been dreamed up by Agatha Christie in Witness for the Prosecution performed in January and February 2014 at the Van Cortlandtville School Theater. To divulge as much of the story as possible without spoiling any of the fun, the gist is that Sir Wilfrid Robarts (Jeff Virgo), a London attorney, is defending Leonard Vole (David Fritsch) who has been charged with murdering an older lady and friend, Miss French. She was unaware that he was a married man and had named him to receive the bulk of her wealth. Vole's wife, Romaine (Tori LaLande) plays a significant role in the court process of determining Vole's alibi. Vole admits that he visited Miss French on the night she was killed, but insists that he was home by nine-thirty, the time of death, an alibi that can be confirmed only by Romaine. But when the lawyers interview Romaine she is, to put it mildly, a little unconvincing.
The rest of the play is given over to the constant unraveling and re-raveling of Leonard's story. In the courtroom we meet the prosecutor Mr. Myers, O.C. (Scott Faubel), the judge (Joel Karpoff), Vole's solicitor Mr. Mayhew (Bruce Pearl) and Miss French's housekeeper Janet McKenzie(Constance Dyckman). Bill Kenyon, Bryelle Burgus, Ellie Fritsch, Joe Manuele, Melody Hockley and Tom Gorman round out the cast.
ARSENIC AND OLD LACE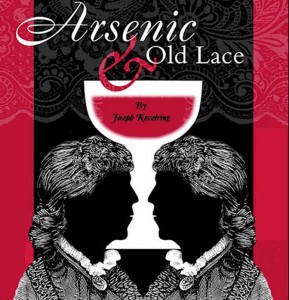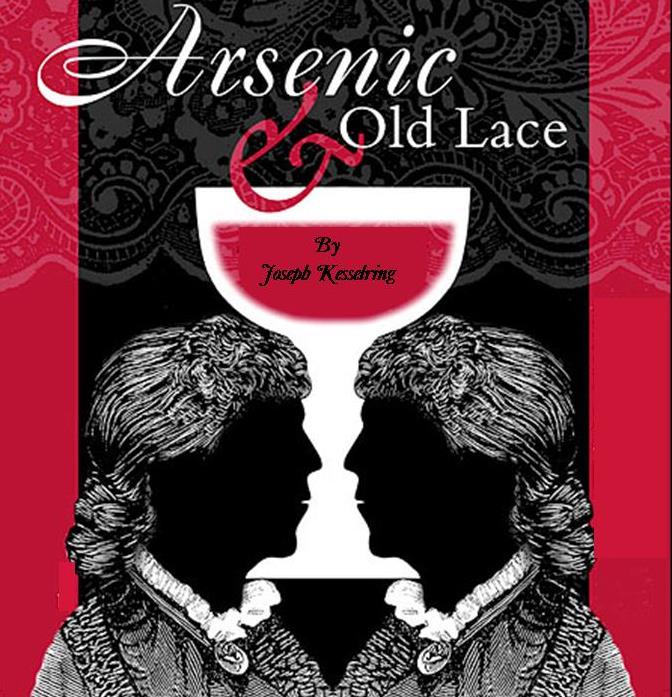 The farcical black comedy, Arsenic and Old Lace by Joseph Kesselring was performed at the Van Cortlandtville School Theater in Mohegan Lake in May 2014.
In 1941, New Yorkers were looking for some entertainment to take their minds off the war in Europe and the growing fear that America would be pulled into it. Broadway gave them exactly what they were looking for in the form of a hilarious new play by Joseph Kesselring, Arsenic and Old Lace. The play became an immediate critical and popular success, running for 1,444 performances. It also became a hit in England in 1942 as theatergoers who were suffering through London post-blitz lined up for tickets. In 1944, Hollywood produced a film version starring Cary Grant that became a huge box office success.
The play, a clever combination of the farcical and the macabre, centers on two elderly sisters, Abby and Martha Brewster (Kathy Colonna and Camille Kaiser), who are famous in their Brooklyn neighborhood for their numerous acts of charity. Unfortunately, however, their charity includes poisoning lonely old men who come to their home looking for lodging. The two women are assisted in their crimes by their mentally challenged nephew (Edward Fonzo)) who believes he is Teddy Roosevelt.
Matters get complicated when a second nephew, Mortimer (Steven Bendler), a theater critic, discovers the murders. A third nephew, Jonathan (Joel Karpoff) appears, having just escaped from a mental institution with his alcoholic accomplice, Dr. Einstein (Steve Schnapper). The remainder of compelling characters include Heather Campbell as Elaine, Mortimer's betrothed, John Timmel, Kate Gleason and Melody Hockley as police officers. Jacqueline Smith plays both Mrs. Harper, Elaine's mother, and the police lieutenant and Marshall Moseley portrays Witherspoon, the head of Happy Dale Sanitarium. In his adroit mixture of comedy and mayhem, Kesselring satirizes the charitable impulse as he pokes fun at the conventions of the theater.
The play was staged by experienced director and actor Richard Troiano who has directed over 26 shows, including YCP TheaterWorks' The Glass Menagerie and On Golden Pond. Other directing credits include Jake's Women, The House of Blue Leaves, A Chorus Line, Working, Lost in Yonkers, Gypsy and Our Town.