YCP TheaterWorks' 56th Season, 2015-2016 was to open with Who's Afraid of Virginia Woolf? but was unfortunately canceled. The winter production, The Odd Couple, by Neil Simon and directed by Joel Karpoff was a huge success in January. Jake's Women, by Neil Simon is capping the season in June, directed by Richard Troiano.
Neil Simon's THE ODD COUPLE
YCP TheaterWorks was proud to prese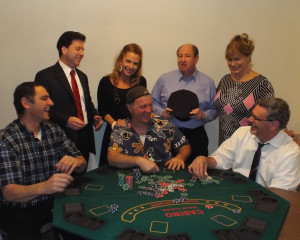 nt Neil Simon's The Odd Couple in January 2016. This classic comedy opens as Oscar Madison (Robert Ansbro II) hosts the weekly poker game for his buddies (Tom Ammirato, Scott Jones, Rich Sheehy and Gary Simon). If the messy bachelor pad and green sandwiches are any indication, it's no wonder that Oscar's wife left him. Late to arrive is Felix Unger (Jonathan Nelson) who has just been separated from his wife. Fastidious, depressed and none too tense, Felix seems suicidal. As the action unfolds Oscar becomes the one with murder on his mind when the clean-freak and the slob ultimately decide to room together with hilarious results as The Odd Couple is born. An evening with the Pigeon sisters, Susan Bond and Elizabeth Moritz, completes one of Neil Simon's most beloved comedies. The play was staged by directorJoel Karpoff.
Neil Simon's JAKE'S WOMEN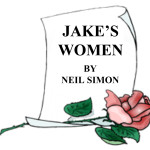 Up next for YCP TheaterWorks is Neil Simon's Jake's Women, directed by Richard Troiano and featuring the talents of: Heather Campbell, Janis Chapin, Carol Eagan, Tori LaLonde, Ariana Morales, Larry Schneider & Jacqueline Smith. Performances are scheduled for Friday & Saturday Nights at 8:00 pm and Sundays at 2:00 pm, June 3 through 12 at the Shrub Oak United Methodist Church Parish Hall (The Parish Hall is the white one-story building behind the stone church) at 1176 East Main Street, Shrub Oak, NY 10588.
Tickets available online at brown paper tickets or by calling 1-800-838-3006. Prices are $20 adults, $18 Students (through college) & Seniors (62+). For groups of 10 or more, tickets can be purchased together at $15 per person (advanced purchase on brown paper tickets is required for group rate). For information call (914) 245-2184.