YCP TheaterWorks' mission is to provide our audience with diverse, quality theatrical entertainment that nurtures and challenges our actors, directors and production personnel.
Celebrating its 57th year of continuous operation, YCP TheaterWorks is the oldest community theater in northern Westchester. The group began in 1959 when a handful of theater-lovers decided to put on a play. That play was The Male Animal, the first of more than 160 to follow. Originally known as the Yorktown Community Players, the group has entertained thousands and offered the opportunity to perform, direct, and work backstage to countless others. A not-for-profit group, YCP was incorporated in New York State in 1962. The leadership has changed over the years, but the dedication to bring exciting classic and contemporary drama to the community lives on.
YCP TheaterWorks Announces 2016-2017 Season
YCP TheaterWorks' 2016-2017 Season started off with Neil Simon's Rumors, directed by Joel Karpoff.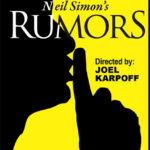 Featuring the talents of: Tom Ammirato, Robert Ansbro II, Susan Bond, Elizabeth Moritz, Jonathan Nelson, Pat O'Neill, Felecia Rivera, Tiberio Saraceno and Donna L. White performances were held in Shrub Oak in October 2016 to much acclaim.
Following Rumors will be Vanya and Sonia and Masha and Spike by Christopher Durang and directed by Richard Troiano. YCP TheaterWorks has resurrected Chekhov! He is alive and well in Bucks County, Pennsylvania, where adult siblings Vanya and Sonia reside in their old family home, mourning their lost dreams and missed opportunities. When their often-wrong, fortune-telling maid warns of impending dangers, and their movie star sister, Masha, arrives unexpectedly with a sexy boy-toy, Spike, the family is launched into a rollicking weekend of one-up-manship and exposed nerves. With wit and absurdity, Christopher Durang's Vanya and Sonia and Masha and Spike will be performed for 3 weekends at The United Methodist Church in Shrub Oak from February 24 through March 12, 8:00 pm on Fridays and Saturdays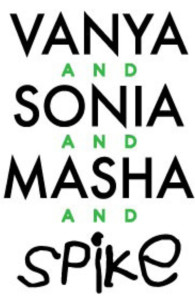 and 2:00 pm on Sundays. You won't want to miss out on this mix of classic Chekhov with modern-day troubles. It is a delightful comedy that will tickle your funny bone and stimulate your mind. Tickets available online or by calling 1-800-838-3006. Tickets are $20 adults, $18 students & seniors, $15 per person for groups of 10 or more at the same performance (advanced reservations required for group rate). For further information, call (914) 245-2184.
Our spring show will be Rabbit Hole, and will be directed by Larry Schneider. Audition information soon.
Watch our facebook page for more information.
YCP holds open auditions for all productions. The local community is heartily invited to audition for roles or volunteer to work in an off-stage capacity.  There are many jobs involved in putting a show together.  Come and join in the fun!  Email YCPTW59@gmail.com or call 914-245-2184 for information.