YCP TheaterWorks' mission is to provide our audience with diverse, quality theatrical entertainment that nurtures and challenges our actors, directors and production personnel.
Celebrating its 58th year of continuous operation, YCP TheaterWorks is the oldest community theater in northern Westchester. The group began in 1959 when a handful of theater-lovers decided to put on a play. That play was The Male Animal, the first of more than 160 to follow. Originally known as the Yorktown Community Players, the group has entertained thousands and offered the opportunity to perform, direct, and work backstage to countless others. A not-for-profit group, YCP was incorporated in New York State in 1962. The leadership has changed over the years, but the dedication to bring exciting classic and contemporary drama to the community lives on.
YCP TheaterWorks to stage a World Premiere
Diminished Capacity By Albi Gorn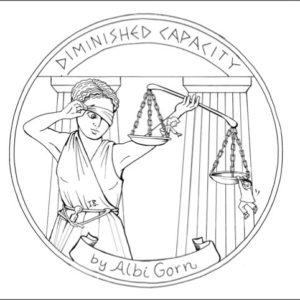 YCP TheaterWorks is proud to present the world premiere production of Diminished Capacity by Albi Gorn and directed by Robin Anne Joseph. Performances will be Fridays and Saturdays, November 3, 4, 10 & 11 at 8pm and Sundays, November 5 and 12 at 2pm. Tickets are $20, adults; $18, seniors and students, group rates available. Tickets can be purchased online by clicking here. Performances will take place at Shrub Oak United Methodist Church's Parish Hall. The Parish Hall is the white one-story building behind the stone church at 1176 East Main Street, Shrub Oak, NY 10588. For information call 914-245-2184.
In Diminished Capacity, a criminal defense lawyer is assigned to represent a young man who is at best only marginally guilty and may well be innocent. Along the way we meet other lawyers, a court reporter, a judge, a college professor, another defendant in the case, a student of the professor who is also a waitress, and a psychologist, all of whom, like in a Dickens novel, seem to have connections to everyone else. The cast includes: Tom Ammirato, Bruce Apar, Melissa Chanza, Lourdes Laifer, Dianne Roxy Pennington, Fred Rueck, Steve Schnapper, Gary Simon, Donna L. White and Nadja Winter.
Following Diminished Capacity will be The Sisters Rosensweig (see the auditions page for updated information) with March 2018 performances and directed by Richard Troiano. The last production of the season will be Twelve Angry Men, directed by Joel Karpoff February 5 and 7, 2018 with performances in May 2018.